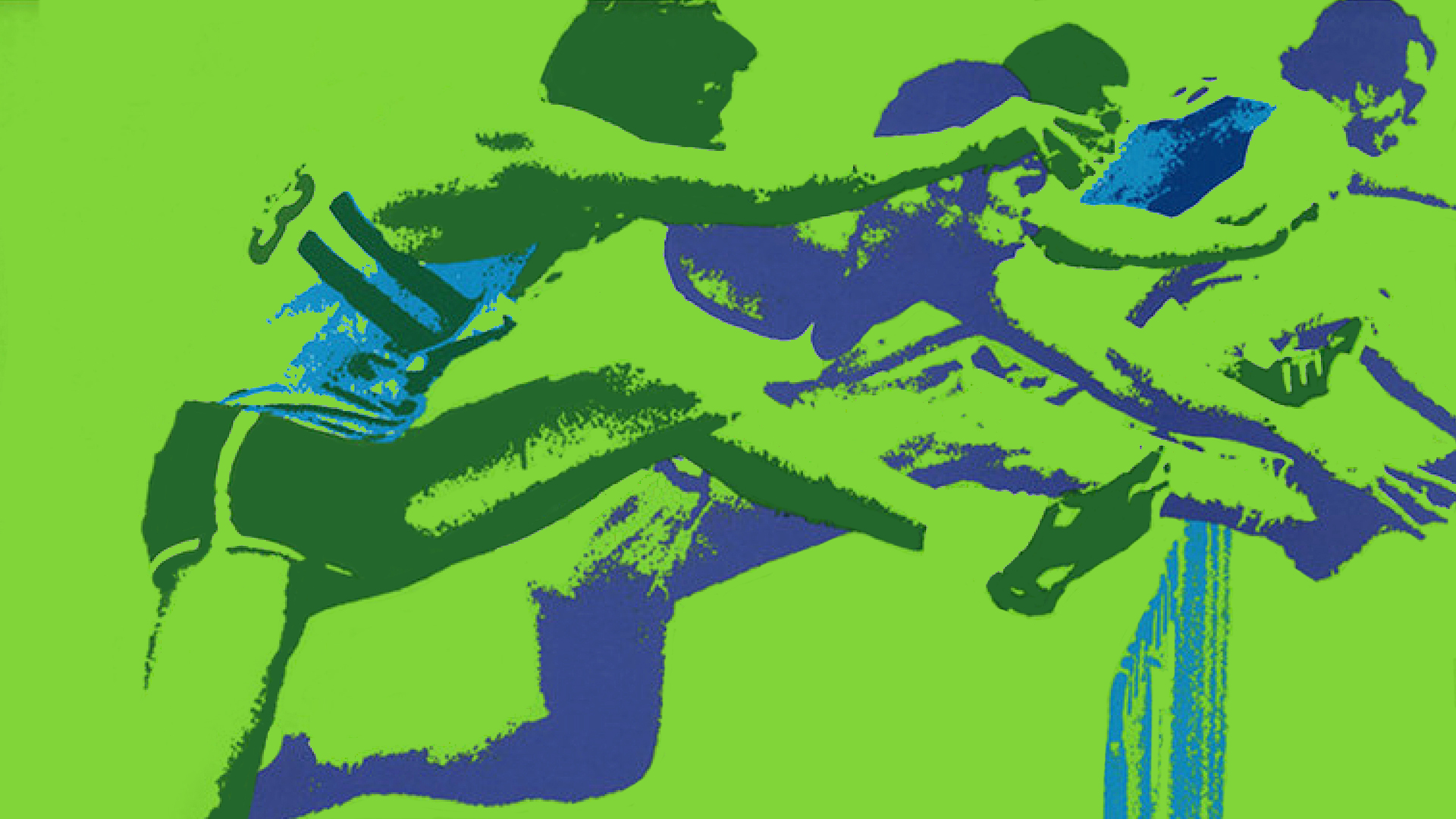 More than a logo! That's what we tell every new client and every designer through our doors. A brand is more than a logo. We have written about it, spoken about it, and even podcasted about it – we're not obsessed, we promise! It's more that we're extremely passionate about branding and what it can do for business. Yet whenever branding is mentioned to people, more often than not, they will automatically think of marks and symbols. We've lost count of the number of brand guidelines we've received that are purely operational – the core focus merely being the application of the logo. Whenever we consult these guidelines to see what we can do to help push and evolve the brand on, we see limitations, not opportunities, and that's not what a design system should do.
Your brand's visual identity is the visible manifestation of your brand, its mission, point of difference and character. It's the impression created by your business's aesthetic, look, and feel. It will include your logo and colour palette, imagery, graphics, typography and website design as core elements. We sometimes refer to this as a visual toolkit or a brand's assets. The sum of all of this should be a unique representation of your brand – one that your customers will instinctively associate with you. But there is an oft missed magical element. A great brand with a great toolkit will flex across each of its applications to maximum effect! Cohesion alone is not going to cut it, applying like wallpaper will not connect or engage. What's needed on top is creativity, imagination and spark, that will really make your organisation fly!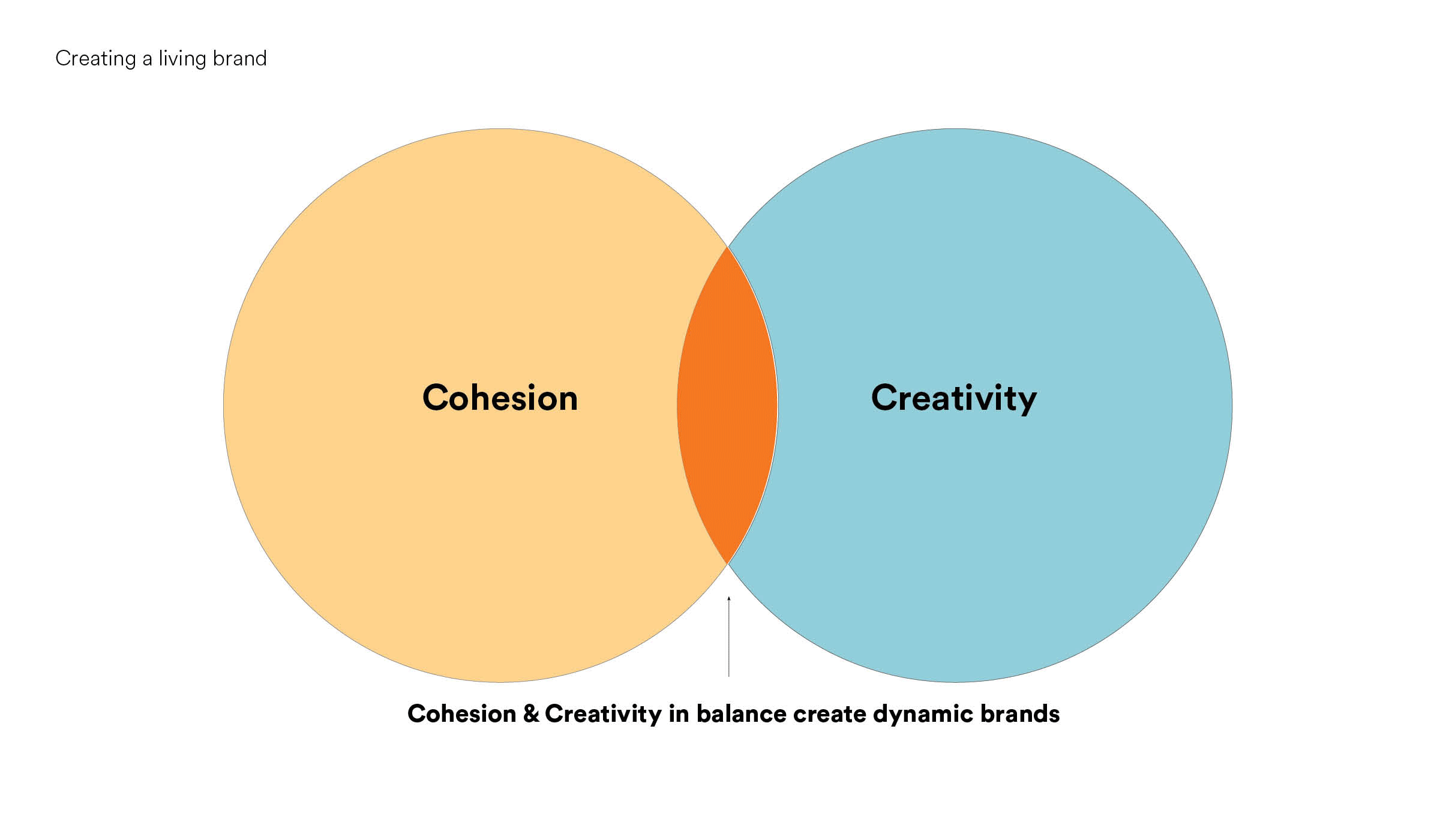 One of the most inspiring examples of a visual design system that balances this need for cohesion with creativity is the 1972 Munich Olympics by German designer Otl Aicher and his design team. The games were dubbed the 'hopeful games' and were seen within Germany to symbolise their rejuvenation. The first item designed for the 1972 games was the logo. Aicher presented an abstract modernist design that represented a Ray of Sun in 1967. It wasn't met with universal approval, and the committee, after much back and forth, decided to hold an open competition. A multitude of entries arrived, and ultimately the committee was brought to the realisation that what Aicher had proposed was superior to anything in the competition. Aicher felt that the logo he presented grew more potent the longer you lived with it, a vital component of any great design is that it has legs, that it gets better with age. However, the committee set further challenges to Aicher and his team to refine and evolve their proposal. What they came back with was a design classic. This logo sits with the Olympic rings, which is abstract but energised, that works with strength and clarity at all sizes; they had taken their ray of sunshine and incorporated a spiral. The finished logo was an absolute triumph. A great example of famous Samuel Beckett's mantra, "Try again, fail again, fail better."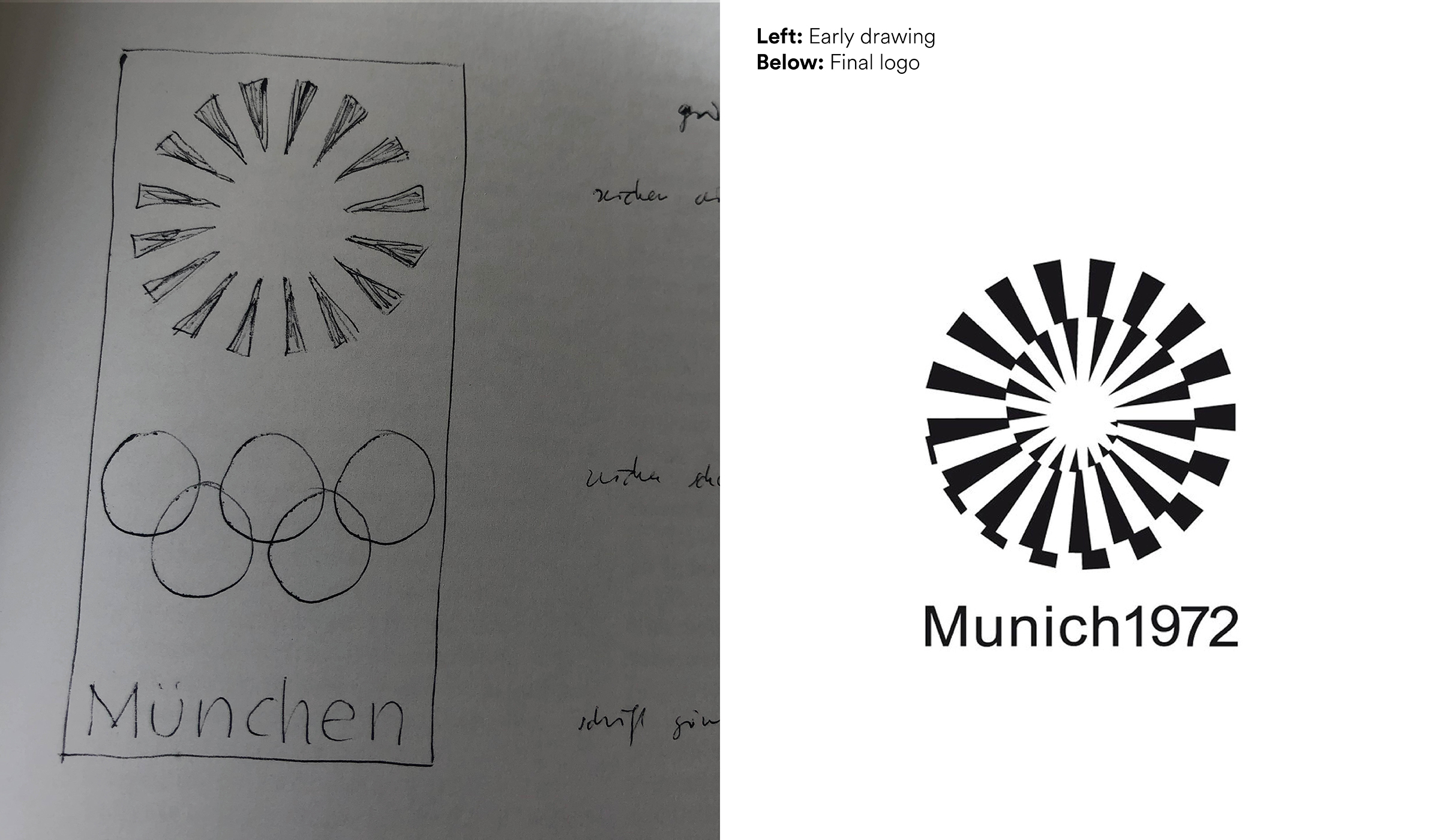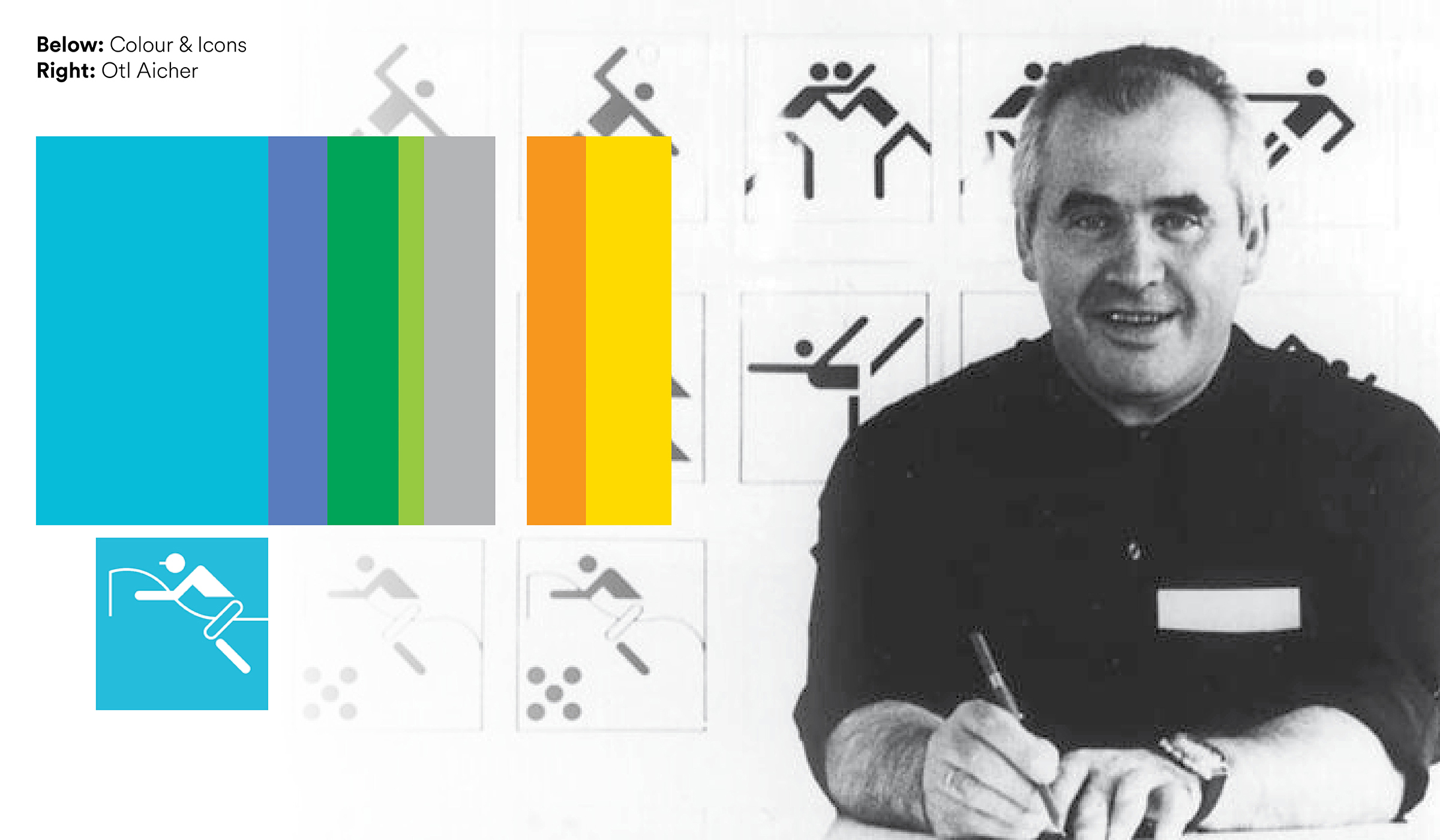 If the logo was a triumph, what was to follow was even more extraordinary. A colour palette was defined that symbolised the hopeful games – bright blues, sunshine yellows and vivid greens. These colour choices would represent the new Germany and would earn the games their new moniker – 'The rainbow games', colours with such energy and vitality that they are immediately distinctive and compelling. Aicher devised perhaps one of the most comprehensive icon libraries ever created. No matter what language you spoke, you would be able to find the sport or amenity you sought. The icons were crafted as much as any other element, elegant, energetic and cohesive, they are still in use in public services worldwide today. The balancing act that Aicher and his design teams pulled off next elevates this system into the higher echelons. Aicher knew that they needed to balance cohesion with play and that every design team needed to be allowed free rein to bring the multitude of elements to life. From maps to uniforms, posters to flags, merchandise to tickets, thousands of designs were produced, each appropriate to their need, each different and yet the same. This is the flexibility that great branding must look to achieve from the smallest most functional item, to the most extraordinary showstopper – everything is an opportunity used correctly will shine, engage, stimulate and inspire.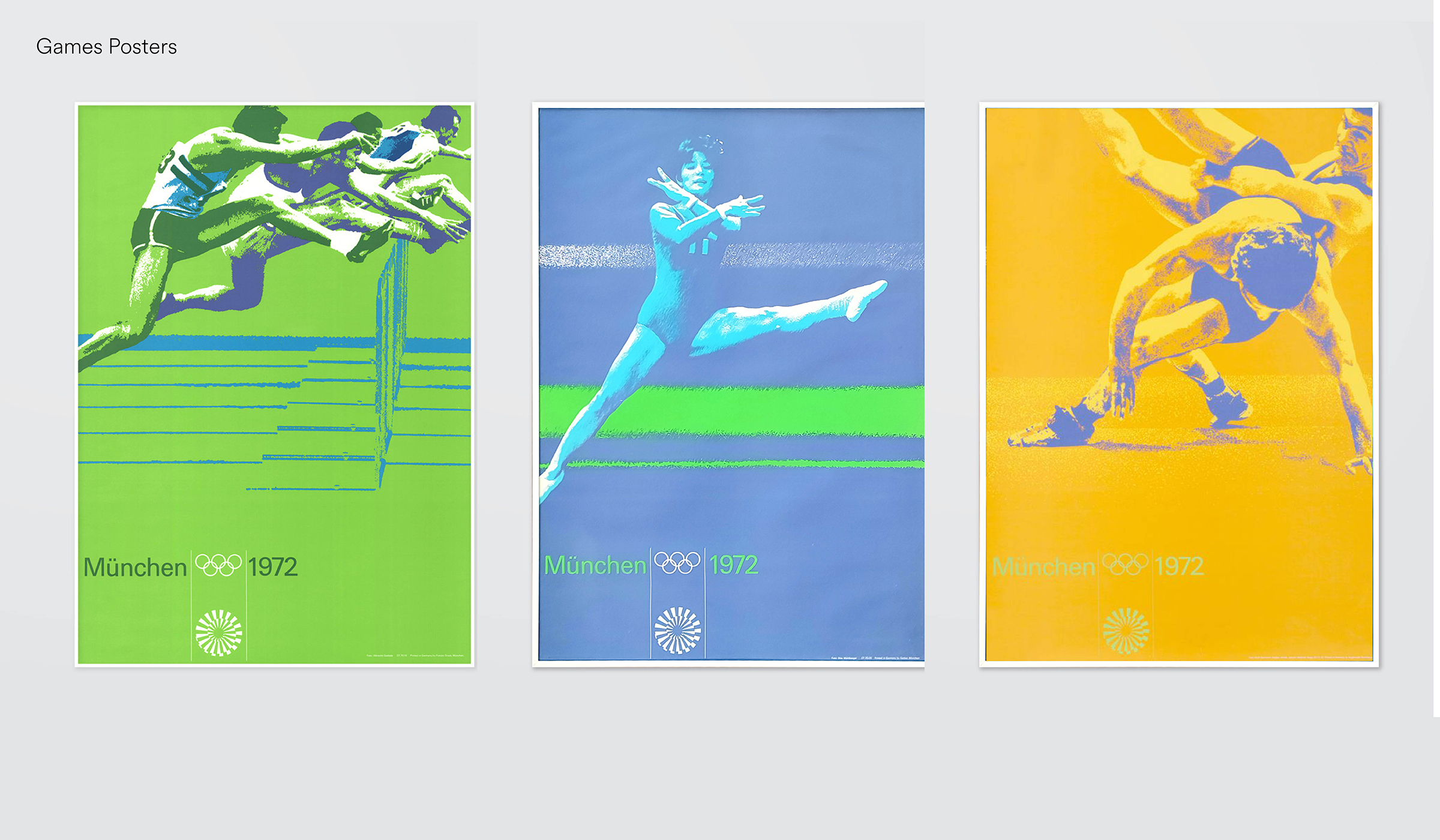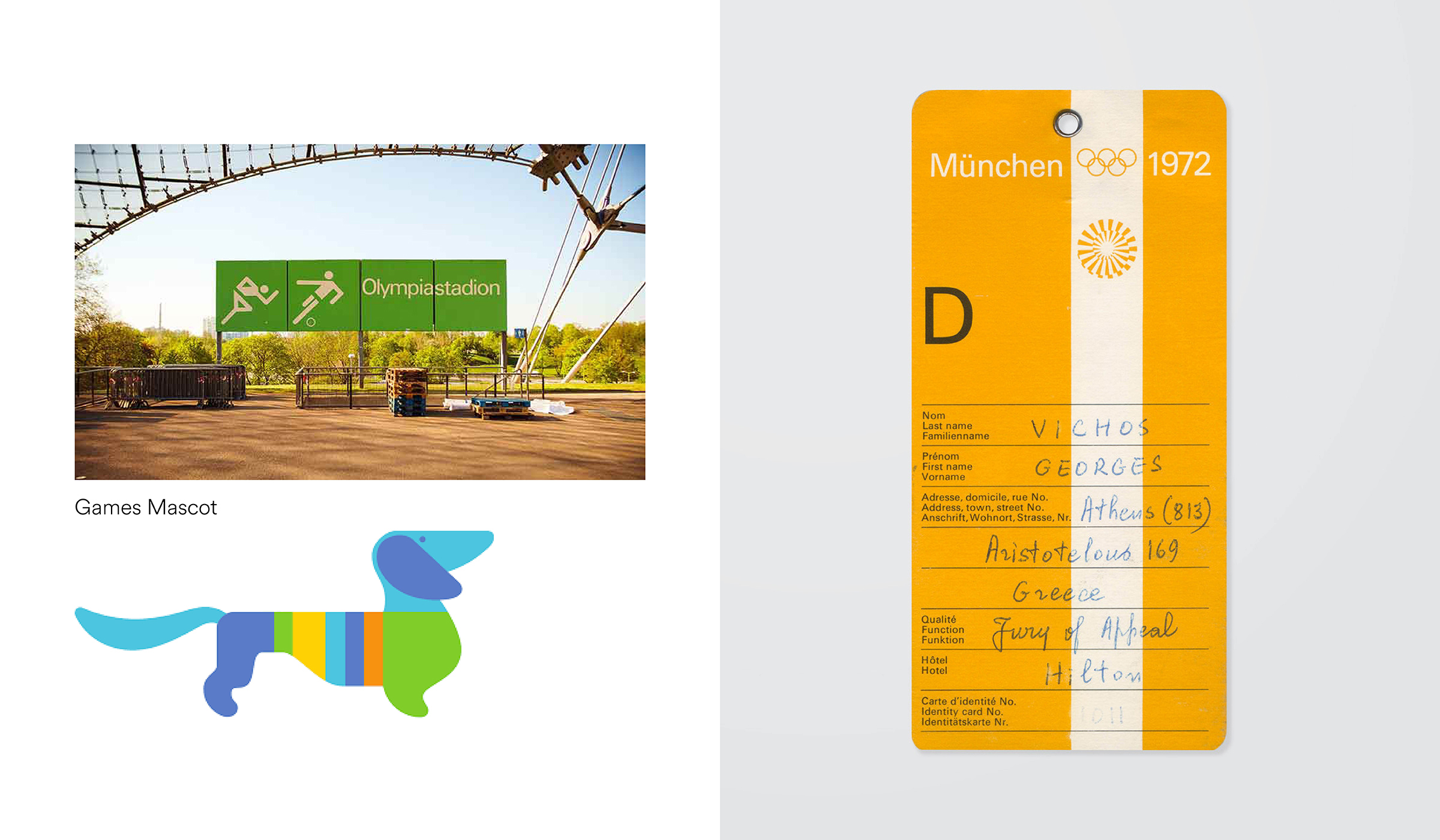 Aicher's system, combined with the driving principles, informs so much of what we do today; branding should not be a strict application but a constant investigation of the possible. We at Alkamee carry these principles close to our hearts; we believe in the power and potential of great branding, and we appreciate that while we craft the core tools, it is equally essential we empower others. Brand building requires teams of complementary experts, from architects to app developers, the skillsets brought to the table can be diverse and demanding, whatever it takes that will allow your brand to flourish and grow.
Want to build a great brand?
Talk to us today on 01 960 2637