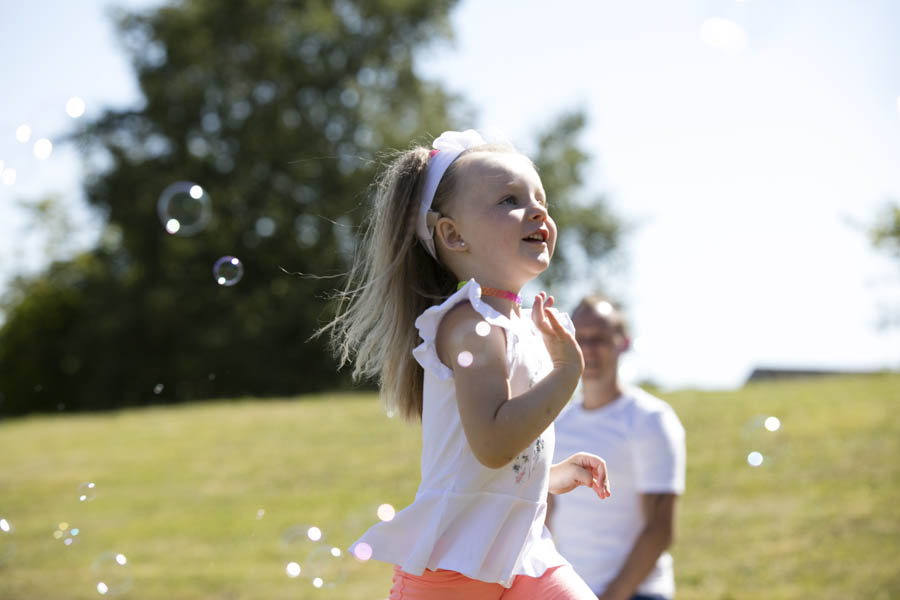 DeafHear were a charity who advocated and worked on behalf of the Irish Deaf Community and those who have acquired hearing loss. We were approached to pitch to take on this exciting challenge and after an extremely extensive, in-depth and thorough process we were the agency who won out. The new name and identity would need to bring together many diverse groups as well as achieve standout in the charity arena. The new brand needed to reach out to young and old, represent and connect with them and also better position the charity to challenge the many high profile retailers. Renowned high street brands were promoting and selling expensive hearing aids, perhaps not always with the same level of diligence and care that DeafHear gave to looking after someones entire welfare.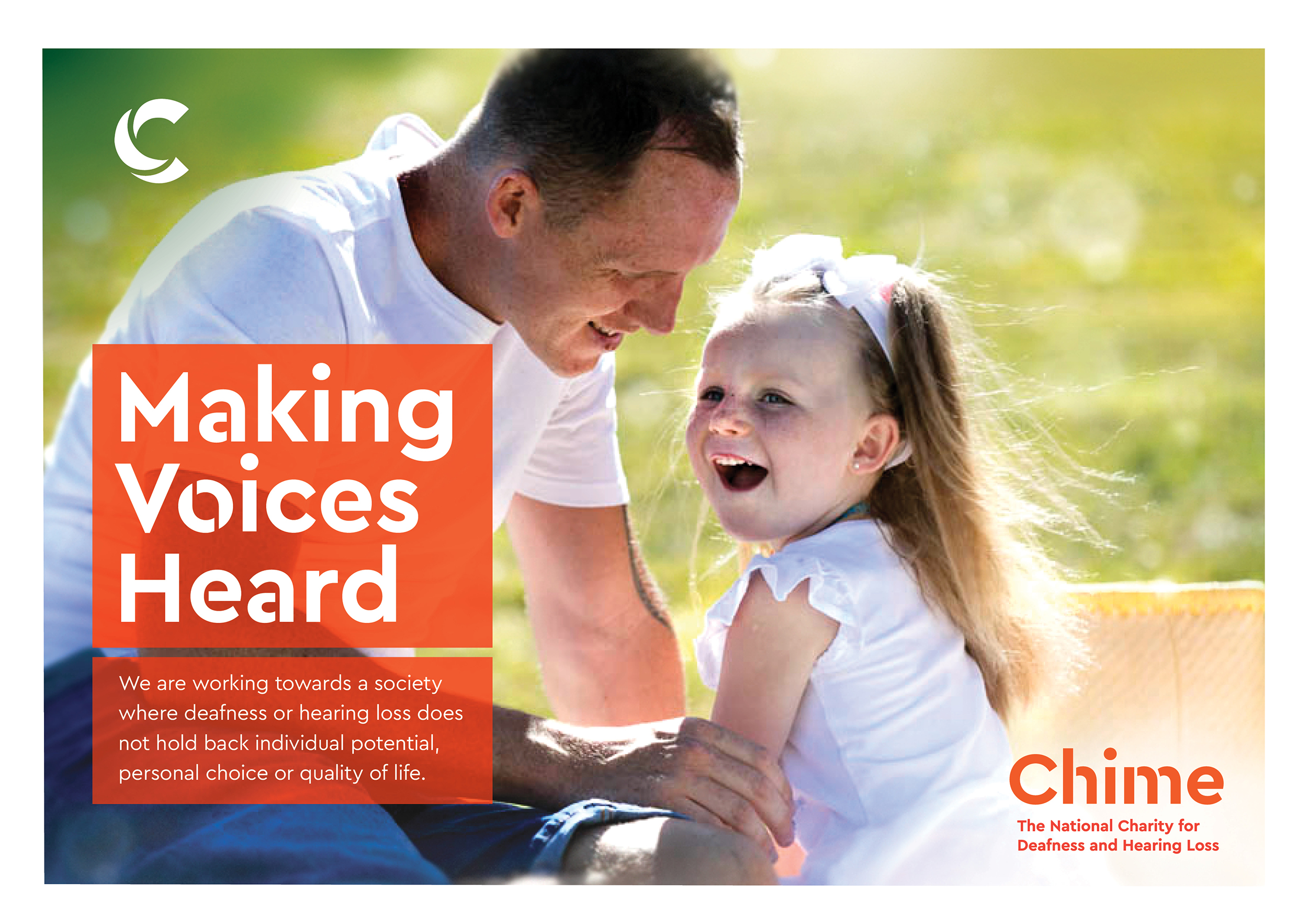 On our journey of discovery we uncovered that deaf people were rightly proud in their uniqueness and in the deaf community, people who had through time acquired hearing loss didn't like being called deaf because of what they felt were the negative associations and parents of children newly diagnosed were worried and often alone with nowhere to turn to for advice and guidance. We discovered that the greatest challenge facing those with hearing issues was not being able to hear, rather it was isolation and loneliness, not hearing wasn't as big an issue as not being included. We needed to bring everyone together and create something impactful that resonated appropriately with one and all.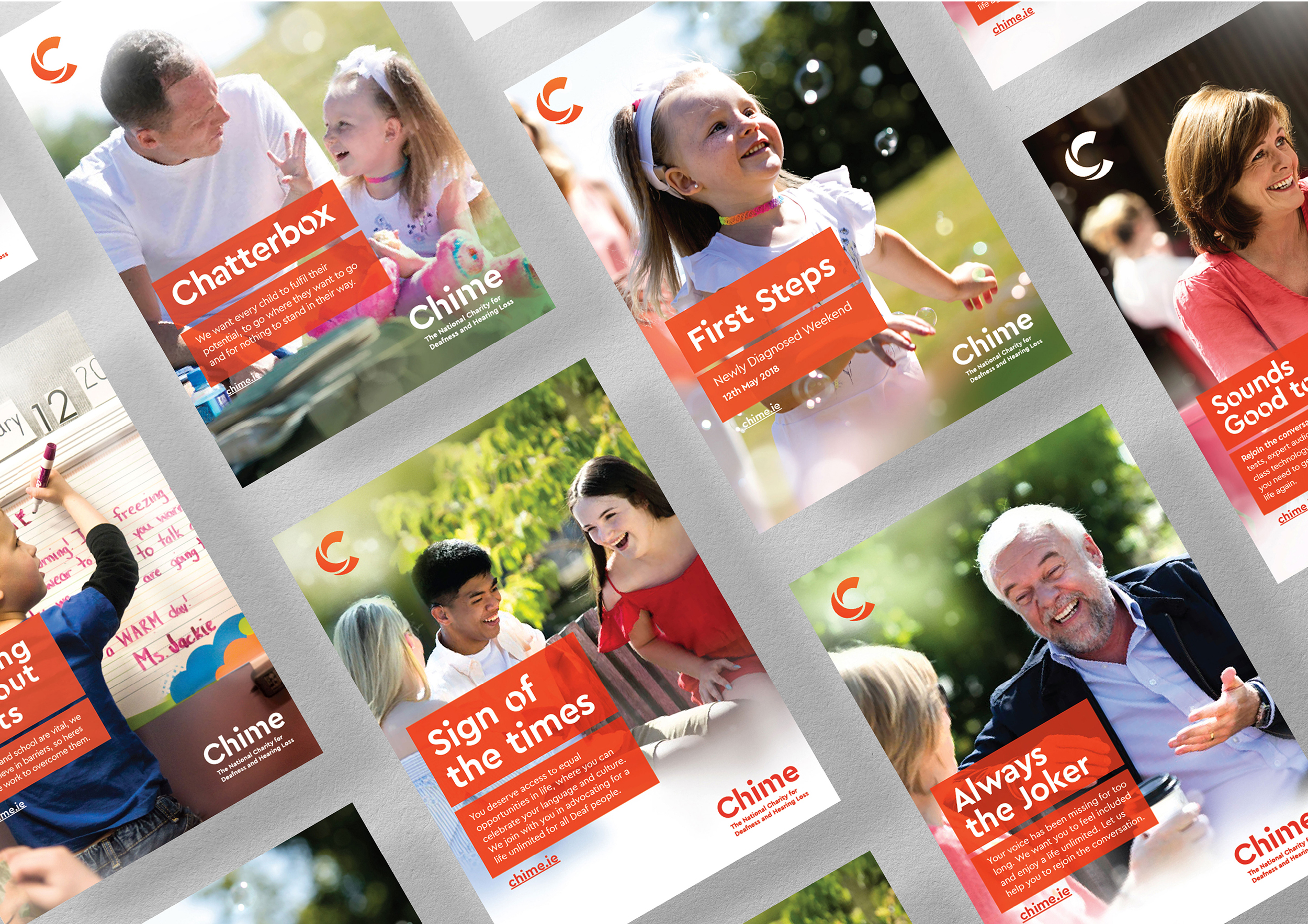 We researched heavily, travelling throughout the country, connecting with both DeafHear staff and those they help. Meeting with parents of young children, students, members from the Deaf community, advocates and those in suffering.
At its best, DeafHear would empower many diverse groups to lead lives to their fullest, overcoming barriers, and ultimately have a life unlimited.
A powerful name is the result of a powerful positioning strategy – the more specific the positioning is the more effective the new name will be. In our conversations with both Deaf and hard of hearing people, we uncovered that in conversation they used 'sound' words to articulate meaning, while those providing the service avoided them. The new name and tone of voice needed to be brave, to reflect the bravery of its target audience. The new name 'Chime' is deliberately disruptive and provocative acting as both a sound word in the literal sense and also, and we felt this vitally important, it was empathetic, Chime also means 'in harmonious agreement'. It's short and evocative, reaching out and addressing the core issue that all of us need someone to talk to and someone to listen to us.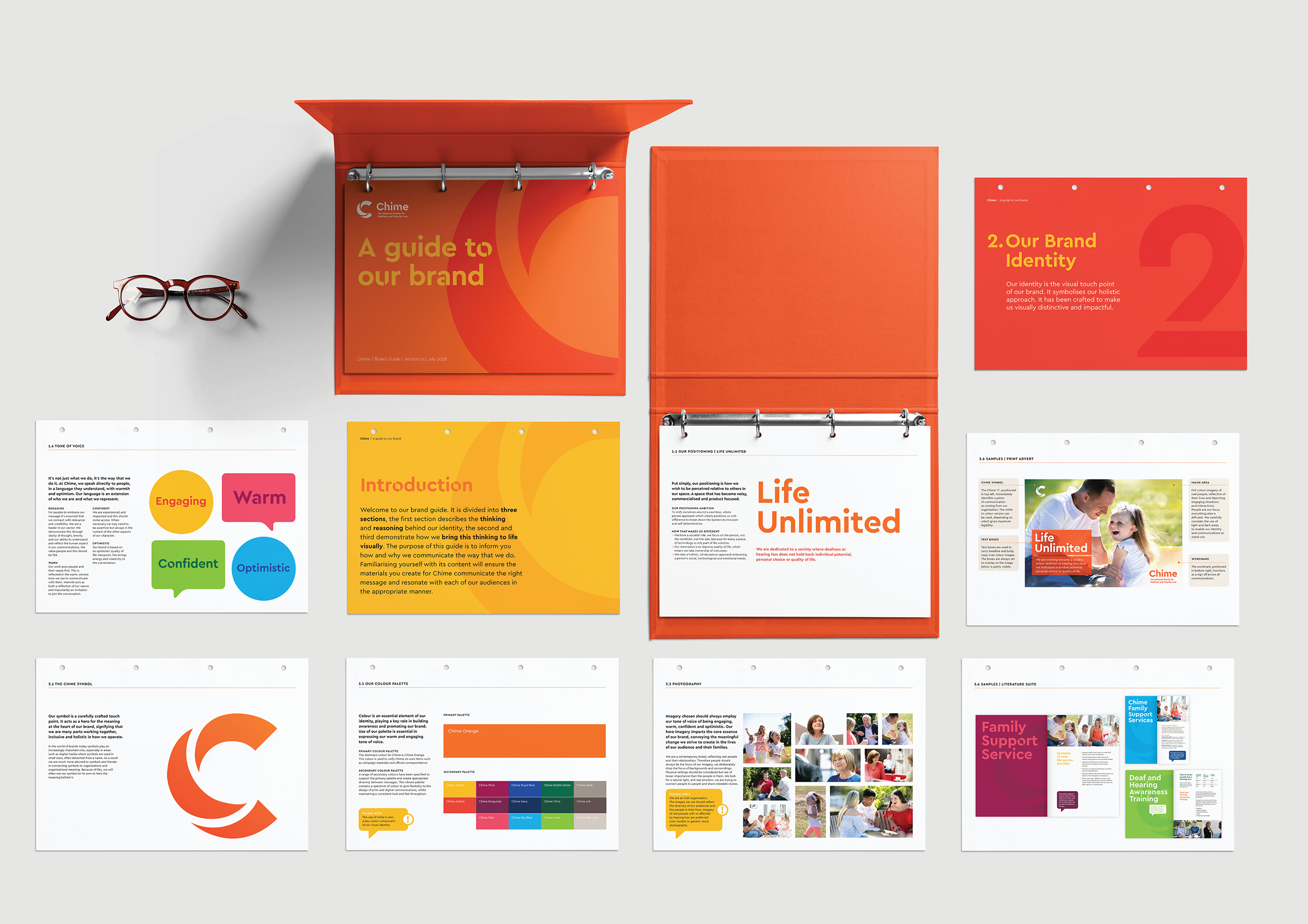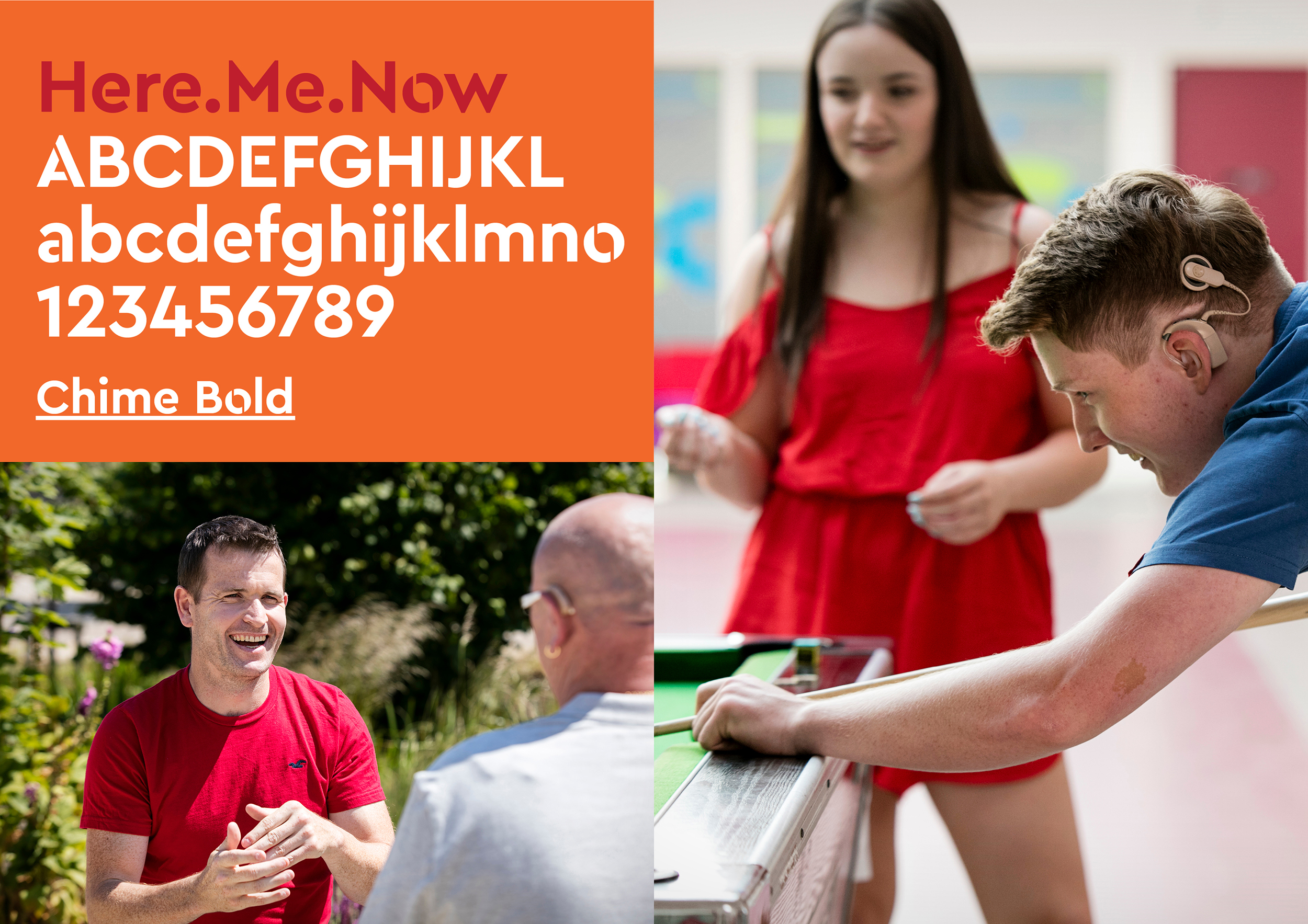 Uniquely for this project, the new name also had to be created for sign language, the DeafHear team worked hard to create a new powerful sign that evoked the right sentiment. 'Chime' successfully evokes and signs as 'empathy', 'resonance' and 'coming together'. The new sign also informed the shape of the Chime symbol. Chime's visual language reflects many individual elements coming together as one. It's bright, bold and optimistic. A bespoke typeface was created, a library of photography was taken capturing their everyday life at a glance. We focussed on creating a flexible yet bold identity system, with a simple strong tone of voice, capable of working across many mediums from playful children's books to informative collatoral to engaging advertising.
Throughout our journey every effort was made to connect with the deaf community, mirroring their lives back at them and being true to life in the most accessible way thus ensuring the rebrand is effective in gaining their trust, making a positive difference to their lives. This is only the beginning of the journey, but the new visual language and name can now act as a signifier for change, for coming together, for pride and sharing of a bright, living culture, of lives being lived to the fullest and unique stories being shared.